About Unlock Your Happiness.com


This Unlock Your Happiness website site is a one-man initiative with a simple mission: to spread happiness as far and wide as possible. It has a simple Mission Statement that spells this out.
The information on this site originates from my own personal experience, interpretation and understanding of life. Take from the site what resonates with you and apply it in your own life. The information, including the two daily habits as taught here, are all offered free of charge. I do believe they will help you to unlock your happiness progressivly, if applied daily.
The core and essential element for unlocking the happiness that resides within is what is known as the CMR Method - Conscious mental Rest - which many have said is more effective for them than the most researched meditation techniques available today.
CMR is non-sectarian and globally useful, no matter what one's personal views are about life, or spiritual or religious beliefs. They are as universal as exercise, drinking, eating and sleeping.


The system used for building this site
I have fiddled around with amateur website building for some time, but had never really found a system that suited my needs. Every system seemed to be incomplete, requiring plug-ins for this and for that. Then I came across this particular system called SBI! I thought I'd give it a try and I am extremely glad I did.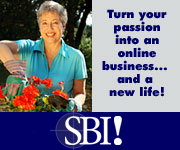 SBI! is not simply a website building tool; it is a total package of knowledge, training, systems, search engine optimization (SEO), keyword analysis, auto-responders, forms, an e-zine and much, much more -- including hosting. It was the perfect vehicle for me to share my joy and passion with whoever wants to listen, without my having to be a 'tekkie' to do it.
SBI! is essentially a way to build a business online. Yet it also serves my needs of sharing stuff free of charge -- which is hardly a great business model! :-) My idea is to allow Google Adsense on my site and thereby try to recover all the the costs of the system and hosting, and hopefully add to my retirement income. Others with SBI! sites have in fact launched themselves into very profitable online businesses. I may do that with a different site, also using SBI!
Click here to find out more about SBI. (Note, SBI! offers a 90-day money-back guarantee. Note too that I am an affiliate of SBI! So, if you decide to go the same route as I did and buy an SBI! all-in-one package, then I do stand to earn a little commission on your purchase -- just so you know.)
To view the new-release SBI! Block Builder 2.0 for building a website, you can click on the image below.
Click the image to view the new-release Solo Build It! Block Builder 2.0
I trust you enjoy the content on my site, and that you will in fact try out the two habits I offer. Feel free to visit again at any time, and to link to this site from your own website or blog if you wish.
Gavin Hoole
from About Unlock Your Happiness.com to
Home Page
Relates Pages:
About Me - Site Owner
Mission Statement
Privacy Policy
Terms of Use
Contact